Why It's Worth it to Fight a Traffic Violation
Nov. 30, 2021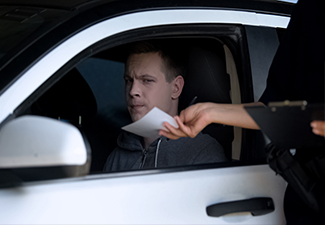 In Missouri, motorists are expected to obey all traffic rules and regulations. A traffic violation occurs when a driver violates any law guiding the operation of a motor vehicle on roadways, streets, or highways across the state. Such traffic violations may include reckless driving, speeding, DUI/DWI, driving without a valid driver's license, running a red light, parking near a fire hydrant, or driving with a suspended license. Committing any of these traffic violations may result in ticket fines, demerit point values on your driving record, and other penalties.
Fighting a traffic violation can help protect your driving privileges and avoid the possible penalties and consequences. Attorney Englert has the resources and experience to represent and help individuals fight their traffic violations. As a dedicated Missouri criminal defense attorney, he will fight diligently to protect your rights, dispute the accusation against you with factual evidence, and attempt to keep your driving record as clean as possible. The firm is proud to serve clients in Independence, Blue Springs, Lee's Summit, and the rest of Missouri.
Understanding the
Point System in Missouri
Missouri uses a point system to assign demerit point values to traffic violations and determine whether to suspend or revoke a person's driving privileges in the state. The Missouri Department of Revenue will add demerit points to your driving record when it receives notice that you've been convicted for a traffic violation.
Missouri's point system may be categorized into Advisory Letter, License Suspension, and License Revocation.
Advisory Letter: If you accumulate four points within 12 months, the Missouri Department of Revenue will send you a point accumulation advisory letter.
License Suspension: If you accumulate eight or more points within 18 months, the Missouri Department of Revenue will suspend your driving privileges.
1st suspension - 30 days

2nd suspension - 60 days

3rd or more suspensions - 90 days
License Revocation: The Department of Revenue will revoke your driving privilege for one year if you accumulate:
12 or more points in 12 months

18 or more points in 24 months

24 or more points in 36 months
The punishment for each traffic violation depends on the demerit points accumulated. The more points you have, the higher the potential penalties and consequences.
Possible Penalties for
a Traffic Violation
If convicted of a traffic violation in the State of Missouri, possible penalties generally include:
Fines

Jail time (ranging from months to years)

License suspension or revocation

Higher auto insurance premiums

Traffic school

Demerit points on your driving record
The serious nature of the ramifications of a conviction makes fighting your traffic violation charges absolutely worth it. A skilled criminal defense attorney can review all of the facts of your case and pursue your best defense to avoid any of these penalties and long-term consequences.
Common Defenses
for Traffic Violations
To fight your traffic violation, a defense attorney can:
Dispute the evidence against you

Establish that your actions were legally justified

Dispute the officer's account of the incident

Establish that it was a mistake of fact

Establish that your conduct was necessary to avoid possible harm
Fighting traffic violations can put you in a position to get a lenient punishment or ultimately beat the ticket. A knowledgeable traffic violations lawyer can evaluate every aspect of your case and strategize on your behalf.
Michael J Englert: Experienced Guidance You Can Rely On
Fighting your speeding tickets or other traffic violations without experienced guidance could increase your risks of getting the maximum punishments. With demerit points on your driving record, being convicted for a traffic violation could make you lose your driving privileges, face possible jail time, hefty fines, have increased auto insurance rates, and other consequences. You need to reach out to an experienced traffic violations attorney to protect your rights and driving privileges.
Attorney Englert has devoted his career to offering outstanding legal services to clients in their traffic violation cases. As your legal counsel, he will review every detail of your situation, explore your possible legal options, and craft an effective defense strategy for your case. Using his in-depth understanding of Missouri traffic laws, Attorney Englert will represent you diligently in traffic court and ensure that you receive fair treatment. He will fight vigorously to pursue the best possible outcome for your traffic violation case.
If you have received a ticket for traffic violations and you intend to fight it, call Michael J Englert, Attorney at Law, today to schedule a simple case assessment. The firm is honored to represent clients in Independence, Blue Springs, Lee's Summit, and throughout Missouri.