Understanding Texting and Driving Laws in Missouri
Oct. 19, 2021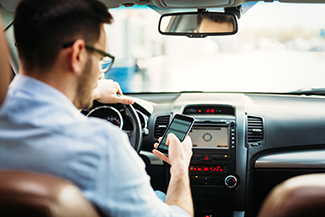 You probably know that texting while driving is a dangerous activity. According to the National Highway Traffic Safety Administration, distracted driving kills over 3,000 people across the United States. Does the State of Missouri prohibit drivers from engaging in this form of distracted driving? What are the penalties for using a cell phone to send or read a text message or email while driving in Missouri?
While texting and driving laws in Missouri may not be as strict as in most other states, drivers who are caught using their cell phones while operating a vehicle may be cited for reckless driving if using the cell phone impairs their ability to drive safely.
If you have received a citation for texting and driving, you might want to consult with a criminal defense attorney in Independence, Missouri, to discuss your defense options. If you or your loved one sustained an injury in a car accident caused by a distracted motorist, you could be entitled to compensation. Speak with our criminal defense or personal injury attorney Michael J Englert to discuss your particular situation.
Distracted Driving in Missouri
Currently, Missouri is one of few states that do not ban texting while driving for all drivers. Under the current law, the ban on using a cell phone while driving applies to only drivers aged 21 or younger and drivers of commercial vehicles.
Drivers aged 21 or younger: Under the Missouri Revisor of Statutes Section 304.820, drivers who are 21 or younger are prohibited from using handheld mobile devices to write, read, or send text messages or emails while operating a motor vehicle. However, the law does not ban driving and talking on a cell phone while holding the mobile device.

Commercial drivers: Drivers of commercial vehicles are also prohibited from using handheld mobile devices to send, write, or read texts, emails, and other electronic messages while operating a motor vehicle.
What Are the Exceptions to Texting and Driving Laws in Missouri?
Missouri law also has several exceptions to its texting and driving statute. You are permitted to use a handheld electronic device to report a crime or illegal activity, call emergency services, or prevent injury to persons or property. These exceptions apply to commercial drivers and motorists who are 21 or younger.
Missouri texting and driving restrictions also do not apply to drivers who are illegally stopped or parked and emergency personnel performing their duties (law enforcement, fire department workers, and ambulance personnel).
Penalties for Distracted Driving
Missouri is a primary offense state, which means law enforcement officers can stop a driver who is caught texting while driving even if the driver does not violate any other traffic laws. The penalties for distracted driving in Missouri are relatively low when compared to other states. A violation of the texting and driving law carries a fine of $20.50 for a first, second, or any subsequent offense.
However, if a driver causes a car crash while texting and driving, the injured victim might be able to hold the driver liable for their financial damages and other losses. If you have been involved in a car accident involving a distracted driver, you might be entitled to compensation.
How Legal Counsel Can Help
If you are involved in a motor vehicle crash and believe that the other driver was using their cell phone in violation of the Missouri texting and driving law, consider speaking with a personal injury lawyer to discuss your legal recourse to receive the compensation to which you are entitled.
If you were the driver cited for texting while driving, on the other hand, you need a criminal defense attorney to help you fight the traffic citation and protect your reputation. Michael J Englert, Attorney at Law represents injured victims of car accidents and individuals who receive traffic citations in Independence, Blue Springs, and neighboring areas in Missouri. Attorney Englert has represented clients in the Independence area for over 30 years.