The Costly Consequences of Ineffective Representation
Nov. 4, 2022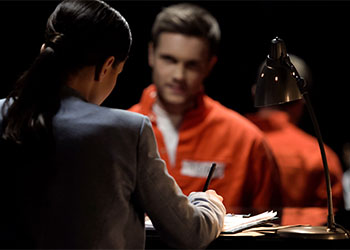 Anyone accused of a crime has the right to strong and reliable representation. When your future is on the line, you need to be confident that you have the right attorney representing you in court. There's too much at stake to settle for an attorney who you're not sure you can trust. High-quality legal representation is key to protecting your future.
Attorney Englert is a criminal defense attorney and has over 30 years of experience practicing law in the Independence, Missouri, area. He emphasizes a personal approach to legal service and enjoys helping his clients secure a fresh start. He can answer your questions and help build a strong legal strategy that is tailored to your goals. Michael J Englert, Attorney at Law, serves clients in Independence, Missouri, Blue Springs, and Lee's Summit.
Ineffective Representation
It is your attorney's responsibility to think of and take all the necessary steps that could help your case. If you were wrongly accused and received ineffective representation, you could go to jail for a crime that you didn't commit. No matter your situation, you need a dedicated criminal defense attorney who will take all possible steps to build your case.
However, not all attorneys take a thorough approach. They might neglect to file a motion that could help your case. Or, they could fail to investigate all the facts. Some attorneys fail to present enough witnesses. Others might fail to establish or confirm an alibi or fail to seek DNA testing. These are some, but not all of the ways that attorneys can be ineffective.
In a study of immigration attorneys in New York, some of the attorneys were found to be "simply unprofessional." According to the judges, these attorneys were unprepared and did not know the relevant law or even the facts of their client's case. These clients did not receive the representation they deserved.
Speak with a knowledgeable criminal defense attorney if you think you may be receiving ineffective representation.
The Consequences of Ineffective Representation
Ineffective representation has serious negative consequences. For example, if your attorney does not provide the best defense, you may have to pay higher fines or fees.
Or, you could find yourself facing harsher penalties than what your actions truly merited (especially if you were wrongly accused). You could lose time during the court proceedings. Or, in the worst-case scenario, you might lose time by serving a jail sentence that you could have avoided with a more effective attorney. These are some, but not all of the possible consequences of ineffective representation.
Qualities of an Effective Defense Attorney
To be confident that you have the best player on your team, look for these qualities in your defense attorney.
First, your attorney should have experience defending the charges you are facing. They should know the law regarding your charges inside and out.

Second, your attorney should know the courtroom and the personnel where your case will be brought. They should be familiar with the D.A.'s policies and typical proceedings in the court.

Last but not least, your attorney should be someone you are comfortable with and can trust. It's vital that you connect with your attorney. You should feel like a strategic lawyer will prioritize your case and go above and beyond to protect your future.
Get Reliable and Trusted Representation Today
When you are facing criminal charges, you need a skilled attorney who can provide you with the best defense. You are in a difficult situation, perhaps one of the most difficult situations of your life, and you can't leave your future to chance. It is essential to work with an experienced and knowledgeable defense attorney.
Attorney Englert takes a personal approach to the law. He will work closely with you to make sure you understand all of your rights and options. Also, he has practiced law in Missouri for over 30 years, so he has a solid understanding of not only the law but the court and its personnel as well. He will listen to your questions and help you build a rock-solid defense. Michael J Englert, Attorney at Law, proudly represents clients in Independence, Missouri, Blue Springs, and Lee's Summit. Contact the firm today to schedule a free consultation.